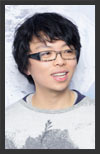 Steven Tai
A self-professed bookworm, Steven Tai's unique blend of intellect and irony presents a refreshingly new take on the woman who stands confidently apart from the mainstream. Since graduating from the University of British Columbia with a degree in Commerce, Steven moved from Vancouver to London to pursue an education and career in fashion design.
Without previous experience in the design industry prior to London, his experience now includes:
working at BLESS, Hussein Chalayan, Viktor & Rolf, Damir Doma, Ying Gao & Stella McCartney
winning the inaugural Chloé Award on the 27th Edition of the Hyères Festival in 2012, as selected by the year's head of jury, Yohji Yamamoto
presenting the label's debut collection on schedule during Mercedes Benz Fashion Week Berlin, sponsored by Mercedes Benz
presenting SS13's catwalk in Zagreb and Athens fashion week
being selected to work with the Spanish shoes company, Campers' workshop in Majorca in 2012
presenting the debut collection in Milan's Talents on White showroom
collaborating with Italian artist Franco Bramilla and UK textile specialists Alison Holt, to create a one of a kind fully embroidered landscape jumper
presenting AW13, SS14, and AW14s' catwalk in Toronto's the shOws hosted by Paola Fullerton
presenting SS14's catwalk presentation during NYFW as a winner for VFILES Made Fashion competition
showcasing SS14's collection at Vogue Italia's Vogue Talents presentation in Milan as selected by Franca Sozzani and Sara Maino to Anna Wintour and François-Henri Pinault
collaborating with Spanish collage artist Lola Dupre for SS14's prints and a special capsule jumper collection
showcasing aw13 and aw14 collection at Hyères' Former exhibition in the 28th and 29th edition of the Hyères Festival
presenting a look at Mercedes Benz's traveling exhibition, FASHION STUDIO, as selected by Haider Ackermann
winning the Swatch's visual competition in conjunction with Vogue Italia to celebrate its thirtieth anniversary with a traveling exhibition of the winning image
participating as a finalist for the prestigious 25th edition of the ANDAM Award
participating SS15's collection in the 2nd edition of Vogue Italia's Vogue Fashion Dubai Experience
teaching a design workshop with the students at Geneva's HEAD University of Art and Design
Design Approach
steventai is a brand known for its endearing take on the awkward and quirky girl by experimenting with unconventional techniques and refreshing silhouettes. Progressive, technically detailed and luxurious, the womenswear brand encourages a relaxed tomboy look that defies mainstream trends. By celebrating the feeling of ease, steventai'scollections often reference sportswear and are loose fitted.
This casual comfort is then elevated with innovative technological developments on fabrics that create a unique blend between luxury and comfort.
Read more at http://steventai.co.uk