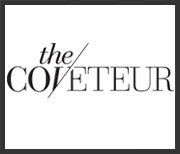 Stephanie Mark, Jake Rosenberg, The Coveteur
The Coveteur was founded in January of 2011, to give its readers access into the homes and closets of some of the world's most stylish people. In the nearly three years since The Coveteur was founded has evolved into an online magazine, publishing original and shop-able content, which aims to inspire it's readers with an unparalleled, exclusive and beautifully curated view of what it takes to be one of the worlds most influential tastemakers or brands.
The Coveteur was co-founded by designer Erin Kleinberg, stylist Stephanie Mark and photographer Jake Rosenberg.
Stephanie Mark
Stephanie is a co-founder and theMarketplace Director of The Coveteur, overseeing all of The Coveteur's relationships with brands and partners. She hand-picks and edits all the products for The Coveteur's shoppable e-commerce features, in addition to overseeing all of The Coveteur's strategic brand partnerships. With her keen eye and knack for forward-thinking, creative solutions, Stephanie advises on all creative direction for our branded partnerships and growth through collaborations. As graduate of Parson's, majoring in Fashion Marketing, she later went on to intern with Kate Lanphear at Elle Magazine. She also assisted celebrity stylists Leslie Fremar and Annabel Tollman—embracing their A-list clientele, including the likes of Michelle Williams, Charlize Theron and Julianne Moore – as her own. Stephanie's background in fashion spans far beyond the styling horizons with past work with everyone from the Hudson's Bay Company, 3.1 Phillip Lim, Intermix and Women Management. Her vast experience in various areas of the fashion landscape has allowed her to greatly understand the retail, marketing and digital spheres.
Jake Rosenberg
Jake is a co-founder of The Coveteur and the company's Chief of Photography and Design. He has shot virtually every photograph and video on the website. Prior to co-founding The Coveteur, Jake was a freelance photographer and worked as an assistant under Chris Nicholls in Toronto. He is a graduate from the Ontario College of Art & Design with a Bachelor of Industrial Design. Jake was recently named as one of the 'Top Six Young Canadian Photographers to Watch' by MTV FORA.
Read more at www.thecoveteur.com