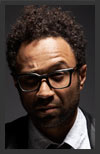 Shawn Hewson, Bustle
Shawn Hewson was born in Montreal and grew up in Hamilton, Ontario, where he attended high school and University. After studying internationally, Shawn moved to Toronto In 1995 to attend law school at the University of Toronto, following which he pursued a career as a corporate lawyer at a large downtown law firm. In 2002, Shawn and his wife, Ruth Promislow founded Bustle Clothing, now recognized as a leading Canadian sportswear label, well known for its twist on the menswear classics.
Since founding the company, Shawn has developed the business of Bustle Clothing to include a custom uniform division, a fashion branding business, and has brokered deals with professional athletes. Shawn spearheads a number of collaborations and partnerships, advising and working with a range of local and International design-driven brands – from the worlds of automotive to fine furniture, electronics, alcohol brands, and fashion and accessories. Clients and partners include brands such as Audi, Vespa, Thompson Hotel, Ritz Carlton, Muskoka Bay Golf Club, the City of Las Vegas, Source UK Carpets, Tretorn, SONY and French Connection.
Shawn has been published in Toronto Life and Sharp magazines, and appeared as a style expert in numerous publications, as well as on numerous television productions, including his tenure as the full-time Designer Judge on the television series Project Runway Canada, and his residency on Celebrity Style Story.
Read more at www.bustleclothing.com