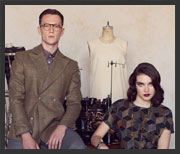 Philip Sparks
Philip Sparks Tailored Goods Inc. was founded in Toronto, Canada in 2007. Our brand has a nostalgic feeling, referencing vintage details and classic tailoring, but a contemporary sensibility that connects with men and women looking for quality, fit and functional clothing they look sharp in every day.
Designer Philip Sparks developed his interest in heritage tailoring in the design departments of the Canadian Opera Company, the National Ballet of Canada and the Stratford Festival. Today, he draws inspiration from found photographs, Canada's great outdoors and vintage fabrics, hardware and notions.
All clothing and accessories are proudly made in Canada by specialized manufacturers, leather workers and knitters. Our first store opened in Toronto's Ossington Village in March 2012 and carries the full Philip Sparks collection of menswear, womenswear, bags and accessories. You can also shop online, now with free shipping across North America.
Read more at www.PhilipSparks.com/Shop