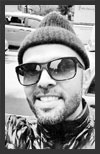 Peter Papapetrou
Peter Papapetrou is one of the most influential voices in Canada's fashion industry. As a multi-faceted stylist and artist, his charm, credibility and in-depth knowledge of fashion makes him an authority on everything related to style. Currently, Peter is the lead resident style expert on CTV's national show "The Marilyn Denis Show". Part of his massive appeal is the ability to transcend fashion, both runway and editorial and translate it to women and men of all ages and lifestyles. Peter's on–air persona is approachable and honest, while his ability to produce trend reports, monthly makeovers and advise a live studio audience and viewers watching from all over Canada make him a true fashion authority.
With over 15 years of experience in the Canadian and International fashion industry the multi-talented Papapetrou has incorporated his love of clothing and design into a thriving career in the fashion industry. He has worked internationally in Paris and Milan with labels Giambattista Valli and Moncler Gamme Rouge and nationally with Izzy Camilleri, Evan Biddell and Wayne Clark. Collaborations with renowned photographers Raphael Mazzucco, Brigitte Lacombe, Chris Nichols, Koby, and Felix Wong have garnered Peter tremendous editorial respect. Peter is also known for his work with celebrity clients such as Javier Bardem, Jully Black, Hilary Duff and Michael Bublé.
Peter was also the Fashion and Creative Director of LUSH Magazine and his work has appeared amongst a diverse list of international publications consisting of US's Interview Magazine, Z!nk, Flare, Hong Kong's West-East and The Globe and Mail. Peter's portrayal of fashion on YTV's "The Next Star" has contributed to the top ratings and he is recognized as the Fashion Expert on "The Loop" and has appeard on "Etalk", "Much Music" and "MTV".
The importance of giving back is clearly inherent with his following collaborations:
Curating "BT White Cashmere Collection" for the Canadian Breast Cancer Foundation, ten years styling the runway shows and campaign for "Fashion Cares x MAC Viva Glam" for AIDS research, judging and mentoring "TFI New Labels" and "Danier Design Challenge". Peter has also had various guest speaking appearances at Ryerson University and George Brown College.
Peter Papapetrou is honored to be nominated for the 2013 Stylist of the Year award from CAFA, The Canadian Arts & Fashion Awards.
Read more at www.plutinogroup.com/