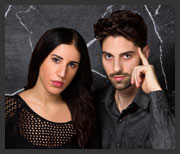 Noelle Hindi & Alex Cirka, The Leather Atelier
The Leather Atelier is a Toronto based accessories brand founded in 2012 by designers Noelle Hindi and Alex Cirka. Their approach to artisanal leather craft is innovated into the future by creating custom developed leather treatments across a range of bags, jewelry, tech/home accessories & art objects. With high attention to detail, leather is transformed using digital manipulation techniques combined with artisanal methods of leather craftsmanship. The Leather Atelier is defined by pushing the boundaries of accessory design and traditional leather craft with a fresh artistic perspective.
The Leather Atelier has grown quickly as one of the most creative accessory brands emerging from Canada. With diverse backgrounds in the art and design fields, the duo has brought their combination of unique perspectives into the world of fashion. Their creations have been featured across the pages of Fashion, Glow, Flare, Chatelaine, Schon and Frische Magazines. Many stylists including George Antonopoulos, Juliana Schiavinato, Rita Liefhebber, Dwayne Kennedy and Patricia Field, to name a few, have interpreted the brand's work for editorials, events and campaigns. Brand collaboration projects have included The National Ballet of Canada, Urban Outfitters and Maybelline New York.
As a full service brand, all photography, styling and digital production is directed/executed in-house, unless credited otherwise.
Read more at http://theleatheratelier.com/