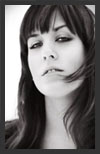 Melissa Nepton
"For me, fashion is an expression of rigueur that impacts women's lives in a positive way. And in return, women bring to fashion a sense of sensuality, fluidity and femininity. It's a communication rooted in comfort, practicality and confidence." – Mélissa Nepton
Fashion designer Mélissa Nepton specializes in modern, ready-to-wear couture that targets the urban career woman. Hers is a vision that emanates from tailoring mastery and practicality, reflecting both her personality and view of fashion.
Mélissa understood at a young age that fabrics were creative tools she wanted to explore as she watched her mother create theater costumes and children's clothes. Mélissa quickly embraced a steadfast road to fashion perfection. She completes her prep school years attending the renowned fashion program at Marie-Victorin College before entering Montreal's L'École supérieure de mode. Mélissa's talent is already noticeable and attracts her teachers' support, encouraging her to pursue studies abroad. This called to Mélissa's sense of adventure, and she set sail for Paris to complete her academic education at L'École Nationale supérieure des Arts Décoratifs de Paris – a formative year where she presents her first runway show.
Back in Montréal, Mélissa furthers her understanding of the industry's business side by working as a buyer-designer for the Marie-Claire Group. Her dream of creating her own label comes true in the unique form of a reality TV show when she was cast in La Collection, Québec's version of Project Runway. Mélissa soon after establishes her eponymous label and followed with a first collection at Montreal's Fashion Week in 2009.
Her career indubitably takes off and she quickly establishes herself among top designers in Québec. In the following years, Mélissa Nepton presents collections every season at both the Montreal and Toronto Fashion Weeks. She succeeds at impressing the fashion press while pleasing the audience. With each turn on the catwalk, Mélissa Nepton innovates and fine-tunes her signature style. Set in an atmosphere of imaginary travels, her runway shows boost innovative collections of impeccably tailored garments made of rich and vaporous fabrics. Mélissa Nepton's collections are available in an ever-increasing number of boutiques, more than 100 across Canada in 2014. The designer also enjoys a strong following amid Canadian celebrities. Actresses Mélissa Desormeaux-Poulin and Marie-Ève Juste wore her designs at the Cannes festival in 2012, which gave Mélissa's brand international exposure.
In 2012, Mélissa Nepton furthers her commercial power with the launch of an online boutique embedded in her official website. More than an online presence, the virtual boutique offers unique creations for the pleasure of her loyal customers and international fashionistas alike.
In a mere few years, Mélissa Nepton has created collections that have made an impact on the Canadian fashion scene, allowing her to become one of the top designers in the country. There was therefore no surprise when she earned top honors by winning the Target Emerging Designer Award in 2013. As the grand prize winner, Mélissa created an apparel collection, which was sold exclusively at Québec Target stores in December 2013. The following year, she partnered with Canadian retailer Thyme Maternity and developed a Spring-Summer collection offering 10 exclusive pieces to fashion forward moms-to-be. With the impressive success of this collection, both brands were delighted to pursue their collaboration by creating a second collection, this time for the Holidays. The exclusive collection of 11 pieces is presently available in Thyme Maternity stores across Canada.
Created with the urban career women in mind, the Montreal-based Mélissa Nepton label was established in 2009. Celebrating an accessible sophistication, a study in movement and a sense of fluidity, Mélissa Nepton's designs outfit silhouettes of all shapes. Her garments boosts simplicity in cut, but a closer look reveals an exquisite attention to details that come to life when worn by women. This thoughtful simplicity is infused in mixing neutral color palettes with rich and textural fabrics. Expertly working with textile, she furthers her exploration of fabric superposition and leather detail styling in every collection she creates. Inspired by the soft cuts of Japanese contemporary fashion, her philosophy of fashion is to create garments, which provide a supple structure, suggesting both comfort and ease of movement. Mélissa Nepton designs are entirely made in Canada and are available in more than 100 boutiques across the country.
Read more at www.melissanepton.com