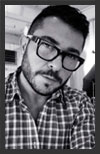 Max Abadian
Ever since he was a little child in going through his mother's fashion magazines, Max Abadian has always had an appreciation for images and a penchant for all things aesthetic. Picking up a camera came naturally to Max at the age of 10 as he started documenting his life picture by picture. This evolved into a career as a photographer, which has allowed Max to collaborate with a variety of artists and publications.
In 1995, Max attended the Dawson College Institute of photography; leaving in 1998 to pursue his own path. The following year, Max shot his first campaign, which was for Air Canada, as well as his first cover for Flare magazine. Max went on to shoot for many notable Canadian publications such as Flare, Chatelaine, Clin d'Oeil, and so forth. In 2003 Max shot his fist celebrity cover for Flare magazine featuring Canada's own Alanis Morissette.
This had a snowball effect, and since then he has shot some of the famous names in Hollywood including Julianne Moore, Gwen Stefanni, Jennifer Lawrence, and Gwyneth Paltorw to name a few. Max has amassed himself a roster of many international magazines such as Vogue, Elle, and Vanity Fair.
In June 2011, Max's portrait of Lady Gaga wearing Gauthier was exhibited as part of the first ever retrospective of the designer called FROM SIDEWALK TO CATWALK, which is currently touring worldwide.In October of 2013, a second work (Herieth in Gauthier) of his was added to the exhibit; which debuted in New York.
Max's images are modern while still being iconic. He has a simple and honest approach to his images while retaining a certain aesthetic sensibility. Max aims to capture the power and femininity in his subjects.
Read more at www.maxabadian.com