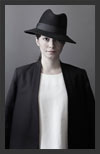 Maryam Keyhani
Maryam Keyhani's necklaces are self-titled works of art. The Tehran-born, Toronto-raised designer was a painter first, brushing her feathered flights of fancy onto the canvas necks of imaginary women. Soon, like Pygmalion, she fell in love with her creations and wanted to give them life; to make them real. Keyhani launched her eponymous collection in 2011.
Keyhani had no formal jewellery training, which means everything she learned to do, she learned to do her way, without rules or limitations. Besides, she has a world of lived-in dreams from which to draw. It was in Florence, where she spent a year as an art student, that she grew a deep love for hand-crafted, thoughtful luxury. In Berlin, she plucked the most gorgeously coloured feathers from a flea market. In Paris, she studied fashion illustration at Parsons and saw, every day in Le Marais or along the canals, the sort of insouciantly elegant femmes she wanted to paint—and design for—always.
Immediate press attention followed with features in ELLE UK, Harpers Bazaar UK, ELLE Germany, FASHION Magazine, FLARE, AnOther and Toronto Star. In 2012, Vogue Italia selected Maryam Keyhani to be apart of their Vogue New Talent showcase.
Her line is sold at select, high-end stores and boutiques around the world including Luisa Via Roma, Corso Como, Joyce, Maryam Nassir Zadeh, Holt Renfrew and The Shop at Bluebird.
Image courtesy of Hasnain Dattu.
Read more at www.maryamkeyhani.com