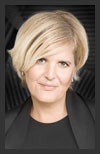 Marie Saint-Pierre
AN EXCEPTIONAL PATH
A leading pioneer in the Canadian fashion industry, Marie Saint Pierre is an established fashion designer recognized for her contributions to the luxury fashion, accessories, fragrance and home markets. Since launching Marie Saint Pierre Design Inc. in 1987, Saint Pierre's veritable expertise has widened to the global stage, receiving accolades and acclaim for her work in major markets worldwide.
Throughout her career, Marie Saint Pierre has received numerous prizes and awards for her creations, her entrepreneurial spirit, and her engagement in the community. In 2007, Marie Saint Pierre received the Chevalier de l'Ordre national du Québec title and more recently in 2012 she received the Order of Canada and The Queen Elizabeth II Diamond Jubilee Medal.
BUSINESS COLLABORATION
Her successful partnership with the Canadian retailer Reitmans brought two capsule-collections of dresses to a broader range of customers. The collections, distributed across Canada, were sold-out in a few hours after their launch.
ORIGINAL CREATIONS
With her recognizable style that embraces graphic and linear effects, Marie Saint Pierre's collections use luxurious fabrics and state of the art workmanship. Each piece is a true reflection on the fabric and a vision of the future where evolution and tradition meet. She invents new silhouettes, that suit a modern lifestyle. Marie Saint Pierre also creates perfumes, accessories, and home furniture, which integrate perfectly to her collections because of her attention to details and her endless quest for excellence.
AN ENGAGED WOMAN
Marie Saint Pierre involves herself in social issues, with women and children causes being particularly of importance to her. In 2004, the fund Sous Zero was set up, not only it provided new and warm clothing for 5 000 children but it also improved and supported their self esteem.
Marie Saint Pierre seldom misses an opportunity to represent her city, and Montreal's talent. She is President of the Quebec Designers' Association (CCMQ) and was chosen by the Finance Minister as a member of a selected group of professional to consult on the fashion industry.
Read more at www.mariesaintpierre.com