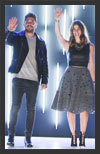 Mackage
Mackage was created around the belief that outerwear is an integral element of fashion. When the weather calls for layering, a coat isn't just a part of an outfit — it becomes the outfit itself. Designers, Eran Elfassy and Elisa Dahan launched Mackage in 1999 and have since grown to become one of the most prestigious contemporary outerwear brands in North America. Mackage collections are creatively designed with sexy detailing and tailored cuts in leather, puffy and wool, made to compliment any silhouette. After many successful years in the outerwear business for men and women, Mackage has expanded, in 2012, into children outerwear with their Mackage Mini collection.
In 2013, Eran and Elisa have introduced their handbag collection which furthered Mackage's evolution into a full lifestyle brand. Using only the finest genuine Italian leather and bold hardware detailing; the Mackage handbags are making their mark in the accessories world. Their signature arrow has quickly become the brands' identifier amongst celebrities and tastemakers all over the world.
Season after season, Mackage has always garnered a strong celebrity following. This recognition has lead to some amazing partnerships with Gwyneth Paltrow and her lifestyle website goop and a handbag collaboration with Meghan Mahoney of Purseblog. The contemporary brand is exclusively distributed in the most sought-after boutiques, department stores and renowned online retailers. Mackage is now sold in over twenty countries on three continents. In addition to a strong international presence, Mackage counts a flagship store in New York's famed Soho district.
Read more at http://www.mackage.com/