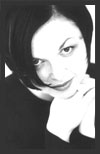 Lida Baday
Sleek. Sculptural. Modern.
Born in Hamilton, Ontario, Lida Baday discovered early in life the possibilities inherent in fashion. The daughter of a dressmaker, Baday was exposed as a youngster to a world of exquisite fabrics and precise tailoring techniques – influences that continue to shape her aesthetic today. Following her graduation from the Fashion Design program at Ryerson Polytechnical University in Toronto, she designed women's ready-to-wear in the burgeoning Toronto garment district. It was during this time that Baday began experimenting with jersey, the uniquely versatile fabric whose potential continues to intrigue and inspire her.
In 1987, the first women's ready-to-wear collection under the Lida Baday label was presented. The small, highly acclaimed collection was streamlined, sculptural, modern and beautifully tailored, and it garnered Baday widespread attention. Within a few short years, she was attracting international notice. In 1990, Baday was awarded the Fil D'Argent in Paris by the Maison du Lin (a promotional arm of the Linen Commission in France). The City of Toronto has twice bestowed its Designer of the year award on Baday. And Vidal Sasson International has honoured her with its Buyer's Designer of the Year Award. With growing American interest and demand for her collection, it was only natural that in 1994 Lida Baday Ltd. would open an office and showroom in New York. It is there that a number of preeminent retailers – Saks Fifth Avenue and Nordstrom's – view the Lida Baday collection each season.
Twenty seven years after launching her collection, Lida Baday has always remained true to her vision of what modern women want. Although this past June, Lida Baday has decided to discontinue her line, her clothes will always remain classic and completely modern. Lida Baday is truly one of Canadian fashion industry's success stories.
Read more at www.lidabaday.com