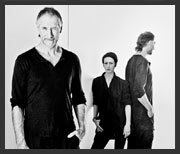 Leda & St. Jacques
"To create fashion in images, you need a good dose of talent and an undeniable technical knowhow. In this duo, great Canadian designers found that unusual symbiosis."
— Sarah Mouton, Ego Design
Leda was born in Italy, and studied art in high school in Rome. She moved to Canada, where she became a student at la Cité Collégiale, in Ontario. She took a class taught by Pierre St. Jacques. He was 18 years older than Leda.
By the time Leda completed her visual arts degree at the University of Ottawa, they were devoted to working together as a team. As a photojournalist with Black Star, St. Jacques had spent his career documenting the world's inequities, from the slums of Brazil to Haitian orphanages, including dignitaries, like the Queen of England.
When Leda suggested that St. Jacques join forces with the fashion world, he decided he was ready for the challenge. While St. Jacques hardly knew fashion, his expertise was light, and he knew that the two would be a winning combination.
In January 2000, the couple moved to Montreal and introduced themselves in the form of a selfpromotional greeting card, which quickly became a milestone in their new path. Everyone wanted to know one thing — who were these "weird" photographers, Leda & St.Jacques? Soon after that, they expanded their notoriety with the public by creating an installation in the windows of a downtown 14-storey building. They placed 153 portraits, 4'X 6′ each, printed on material that lets people to see through it, while allowing light to pass through. These are among many examples of their continuous originality. Today, these "weird" photographers have won countless national and international awards for their work, including National Magazine Awards, Applied Arts, Communication Arts, Graphica, Les Grands Prix, Lux, Créa, Natja — but what keeps them at the top of their craft is knowing that their best images are yet to
Read more at http://rodeoproduction.com/#/artists/ledastjacques