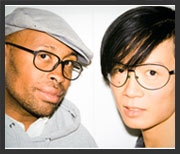 Kirk Pickersgill & Stephen Wong, Greta Constantine
Greta Constantine is an accessible luxury line of ready-to-wear womenswear based in Toronto, Canada. Designers Kirk Pickersgill and Stephen Wong, considered the "jersey boys of Toronto," have rapidly accumulated a clientele comprised of international socialites and celebrities alike. The label itself is derived from the combination of the name of Stephen's mother, Greta, with that of Kirk's grandfather, Constantine. The pair works together in their Toronto area studio — conceptualizing, exploring, and challenging the fashions of today for the women of tomorrow.
Greta Constantine regularly garners a high level of attention from Canadian and international press with appearances in Vogue, British Vogue, FASHION, FLARE, Nylon, FQ, WWD, ELLE Canada, US Weekly, Hello! Magazine, House and Home, Toronto Star, National Post, and Globe and Mail, among others. Moreover, their pieces have been featured on covers for publications including FASHION, ELLE Quebec, Z!nk Canada, Anokhi, Chloe, Azure, Spade, FQ, and Lush. They have also been profiled for key online media such as IWantIGot, Fashionista, Refinery29, StyleBubble, and The Huffington Post. They have held fashion presentations during Toronto Fashion Week, in addition to New York Fashion Week, and have partnered with 5 Gum, Audi, ALDO, Danier, MAC Cosmetics, RADO, Schwarzkopf Professional, and Stolichnaya Vodka among other likeminded lifestyle brands. Pickersgill and Wong's work has attracted a notable list of well-heeled A-listers including Miley Cyrus, Lana del Rey, Coco Rocha, P!nk, Taylor Swift, Jennifer Hudson, Nelly Furtado, Angelina Jolie, Iman, Kreesha Turner, Hilary Duff, Victoria Beckham, Jully Black, and Naomi Campbell.
Aided by strong media buzz and a celebrity clientele, Greta Constantine has developed an extensive international retail network. Pickersgill and Wong's business grew 200% in sales from the fall/winter 2013 to spring/summer 2014 seasons stemming from new accounts in Austria, France, Switzerland, Kuwait, the United Arab Emirates, and online. The collection has sustained strong sales since then, averaging a 25-35% increase in sales buoyed by overwhelming demand in the Middle Eastern market. The duo's collection is now available in over 35 doors internationally, in addition to select online partners. This is a considerable feat given that all business functions including design, sales, public relations, and manufacturing are handled exclusively within the duo's downtown Toronto studio. In sum, Greta Constantine is a proudly Canadian enterprise in every sense.
A collaborative approach to design
While collaboration in the fashion industry is not without precedent, each design partnership experiences its own nuances as a collection transitions from inspiration to muslin, sample to fashion show and finally, retail. Where the contribution of one begins and the other ends is often difficult to map with the duo, however it becomes clear rather quickly that Greta Constantine is the collaboration. Neither would have achieved it alone.
As individuals, Kirk Pickersgill and Stephen Wong have rather distinct approaches and viewpoints on design. Wong skews towards the fantastical, as Pickersgill is concerned with wearability; the former focuses in on the finest of details of a piece of clothing, while the latter on the whole look. However, as collaborators, it's a mistake to say that their strong aesthetic is more the product of one's mind than the other's. To see such polish and signature come out of a young designer label – Greta Constantine will be turning 8 next year – suggests that maybe it really is the fusion of the two perspectives that has made it a truly Canadian success story. Greta Constantine prospers as a label of ever-evolving signatures. In the late 2000s, this came in the form of Grecian jersey gowns with gathers, tucks, and swathes of fabric that enveloped the wearer. These designs soon gave way to more minimal, column silhouettes as broader waves in fashion ushered in an era of simplicity. Over the past three seasons, drapery has been eschewed in favour of structure with the introduction of a microfiber knit. Jutting peplums, criss-cross folds, and razor-sharp silhouettes define the duo's collections as Greta Constantine nears its tenth anniversary. While this may come across as a bold shift from the jersey cowls of yesteryear, Pickersgill and Wong's approach remains loyally rooted in shape — that of the female form, rather than of the abstract, sculptural variety.
The inevitable product of their focus on the female form is design emboldened by sexuality. Yet sexuality and femininity more generally, are socially constructed in a dichotomous manner: ladylike or seductive; prim and pretty or body-skimming and revealing. However, for Pickersgill and Wong, these dichotomies mustn't be treated as mutually exclusive properties. In the elegantly seductive world of Greta Constantine, it's not surprising to see a backless top paired with a flared, midi-length skirt or a boxy, ruffle hem sleeveless dress that barely grazes mid-thigh in a shade of salmon, no less. And while the dresses themselves may be constricting to the female form, there's something truly freeing about wearing a piece that is equal parts matron and vixen. After all, sometimes you just want to be both.
Read more at www.gretaconstantine.com