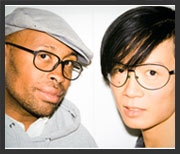 Kirk Pickersgill & Stephen Wong, Greta Constantine
Greta Constantine is an accessible luxury line of ready-to-wear women's wear based in Toronto, Canada. Designers Kirk Pickersgill and Stephen Wong, considered the "jersey boys of Toronto," have rapidly accumulated a clientele comprised of international socialites and celebrities alike since starting their label in 2006.
The name itself is derived from the combination of the name of Stephen's mother, Greta, with that of Kirk's grandfather, Constantine. The pair works together in their Toronto area studio — conceptualizing, exploring, and challenging the fashions of today for the women of tomorrow.
Designers Kirk Pickersgill and Stephen Wong met in Toronto and became fast friends. Sensing that the current state of Canadian fashion was in decline, they sought to pursue their lifelong dreams of starting their own label. Kirk, a stylist by trade based in Milan, Italy, has worked for international designers such as Dsquared2 and Neil Barrett. He has used his wealth of experience to fulfill his role as a guest teacher at the renowned Istituto Marangoni in Milan. Stephen began his career as a costume designer in Toronto for Susan Dicks & Co. and has designed clothing for several films such as The Last Day of Disco, American Pyscho, Glitter, Chicago, and Hairspray.
Read more at www.gretaconstantine.com