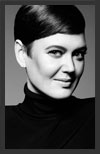 Kimberely Newport-Mimran, Pink Tartan
Kimberley Newport-Mimran is the President and Head Designer of Pink Tartan, the womenswear line she co-founded in Toronto in 2002. The New York showroom opened in 2004, and the line is now carried at Saks Fifth Avenue, Neiman Marcus, Bloomingdale's, Holt Renfrew and The Bay as well as specialty stores across North America, Dubai and Seoul.
Newport-Mimran has also designed sleek uniforms for Holt Renfrew, Porter Airlines, 60 Thompson in New York City and Hollywood's Roosevelt Hotel Tropicana bar.
Kim studied fashion merchandising and manufacturing management eventually moving to a career in the buying office at the Hudson Bay Company, North America's oldest retailer. Kim's style philosophy was clear: "simplicity is the secret to elegance." She went on to product development and merchandising and specialized in denim and menswear at Club Monaco. That is where she learned the importance of structure and tailoring. "Execution is key," became her lifelong mantra.
Newport-Mimran later moved to Caban where she further exemplified, "sourcing is an art: finding fabric and manufacturing makes the difference in luxury design." There she met and married the CEO, Joe Mimran. Today the pair are viewed as Canadian fashion royalty; Mimran launched the Joe Fresh mass fashion phenomenon after he selling Club Monaco to Ralph Lauren. The couple's daughter, Jacqueline, was born in 2001.
"Simplicity is the secret to ELEGANCE"
Read more at www.pinktartan.com