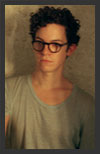 Jeremy Laing
Canadian-born Jeremy Laing spent his childhood on an army base in Germany. He learned to sew at age 13 by watching his mother, and has been making clothes ever since.
Jeremy's self-taught method, which combines organic and geometric approaches to pattern making and construction, was honed while studying in Toronto, on exchange at Westminster University in London, and through an apprenticeship with Alexander McQueen. Following his apprenticeship, Jeremy worked freelance developing showpieces for five of McQueen's collections, demonstrating his strength in innovative pattern making, garment construction, and the use of textile to create form. In 2011, Jeremy was a finalist for the prestigious ANDAM Fashion Award.
In Jeremy's view, garments are a sum of parts, all functioning in relation to one another and, ultimately, to the body. His collections often stem from his elaborations on simple principles of construction and form, drawing simultaneously from couture and tailoring traditions.
Jeremy currently lives and works in Toronto, Canada.
Photo courtesy of Lauren Burns Coady.
Read more at www.jeremylaing.com