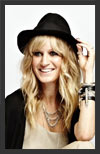 Jenny Bird
Jenny Bird launched her namesake line in 2008 in response to a calling too poignant to ignore: the mass market had a gaping void, lacking fashion-forward accessories that were beautifully designed, well constructed and accessibly priced. She couldn't help but create.
Since then Bird, alongside her husband Adam Kohn, has independently grown the business to become an internationally recognized and sought-after accessories brand, with her distinct jewelry and handbags now sold in over 600 retailers and in 14 countries, with sales showrooms in Toronto, New York, LA and Tokyo.
With deep roots in the Canadian countryside and garment construction in her blood, the self-taught Bird builds her inspired, soulful pieces with an exceptional attention to quality, resulting in beautiful, lasting pieces with staying power in style and substance. Sourcing inspiration and creative collaboration from around the globe, Bird delivers a bold, feminine spirit through her collections that somehow work for every sort of woman.
A true global citizen, Bird also uses her creative to give back, working with philanthropic partners including WWF and the Pollinator Partnership to contribute to causes she has heart for. Bird's ongoing mission is to connect with people across the planet through creative work, believing it her way of sharing love with the world.
Read more at www.jenny-bird.com