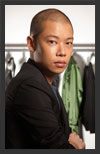 Jason Wu
Jason Wu debuted his first Ready-to-Wear Collection in 2007 with a unique and distinctive esthetic.
Through merging American sportswear with old world sophistication he established a supremely feminine and modern sensibility. "I have always found a woman's body to be especially beautiful ever since taking my first life drawing class as a teenager. I was drawn to fashion design as it is my passion to create garments that enhance and flatter the female form," explains Jason.
Since the first collection Jason has been dedicated to make clothes that were as beautifully crafted inside as out. With the focus on couture quality craftsmanship, over 95% of the Jason Wu Collection is manufactured in New York City's Garment District.
He is influenced by many sources including the classic photography of Richard Avedon, the works of Charles James and Jacques Fath. He also finds inspiration on his travels to Asia, Europe and Latin America as well as an eclectic array of artists including Beatriz Milhazes, Rene Gruau and Barnett Newman.
His family moved to Vancouver when Wu was 9 where he began learning how to sew, draft patterns, and sketch in fashion proportions by using dolls as mannequins. At the age of 14, he studied sculpture in Tokyo and then spent his senior year of high school in Paris, where he decided to become a fashion designer. Wu then moved to New York City and enrolled in the prestigious Parsons School of Design.
Although only 28, the precocious designer has already achieved many of his aspirations. He has emerged as one of the leading global talents based in NYC but continues to evolve and grow as a designer. Jason continues to receive accolades including being named one of the finalists in the CFDA/Vogue Fashion Fund in July 2008. In June 2010 he won the Swarovski Award for Womenswear at the CFDA Fashion Awards and in April 2011 he was nominated for the CFDA/Swarovski Award for Accessory Design.
Read more at www.jasonwustudio.com