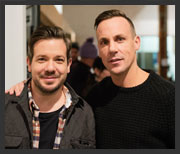 Herschel Supply Company
Herschel Supply is a privately owned family business run by two brothers, Jamie and Lyndon Cormack, with over 20 years of shared experience inside the fashion industry. The eldest of the two brothers, Jamie, is responsible for the production and overall design aesthetic for all Herschel Supply products. On any given day, Jamie spends time sourcing materials, designing innovative silhouettes and brainstorming new ideas for future products. Lyndon heads up the sales, marketing and operations departments at Herschel Supply. After years of experience working with brands inside the fashion industry, Lyndon has developed a keen eye for styling and long term brand direction. Lyndon and Jamie's ambition, commitment to consistency and ability to execute on a timely basis can be attributed to Herschel Supply's rapid growth.
In the early 1900's, Peter Alexander Cormack and his wife made the journey from Wick, Scotland and settled in the small town of Herschel, whose population today is counted at 30 residents. Founded in 2009 by brothers Jamie and Lyndon Cormack, Herschel Supply Co. adopted the name of the small town where three generations of their family were raised. Herschel Supply Co. is based in Vancouver, Canada and manufactures the finest quality backpacks, bags, travel goods and accessories. Our goal is to create timeless product with a fine regard for detail.
Read more at http://www.herschelsupply.com