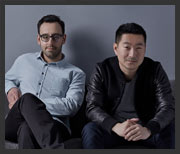 Frank & Oak
Ethan Song
Co-founder, CEO, and Creative Director
Frank & Oak
Independent and determined, Ethan has launched and collaborated on an array of creative and entrepreneurial endeavors. As co-founder, CEO, and Creative Director of menswear e-tailer Frank & Oak, Ethan enhances everything customer-facing, including the product, marketing campaigns, and online shopping experience. His vision of creating a simple and innovative company at the nexus of fashion, technology, and retail makes him an inspiration to his team and those around.
Originally from China, Ethan has traveled and worked on most continents, including more pronounced stints in Shanghai, Paris, and Vancouver. He holds a Bachelor's Degree in Computer and Electrical Engineering from the University of British Columbia, and professionally performed and studied drama and dance for several years. Ethan's extensive retail experience and interest in sales and marketing made his early career as a strategic management consultant a natural fit. In 2012, he co-founded Frank & Oak to revolutionize the traditional retail model and offer men the simplest way to shop online. Ethan's entrepreneurial spirit and passion for both the arts and sciences make him a successful driving force behind the innovative brand.
Hicham Ratnani
Co-founder, COO
Frank & Oak
Hicham Ratnani is a serial entrepreneur with a passion for consumer products and building companies from the bottom up. As the co-founder and COO of menswear e-tailer Frank & Oak, Hicham leads the brand's operations, logistics, technology, and member services teams. He prides himself on being a 'numbers guy' who uses data intelligence to improve the customer experience, but is also a team leader and motivator, creating company culture behind the scenes.
Hicham made his first dollar—online, no less—at the age of 13, and instantly became determined to start his own business. A high school (and later collegiate) football player, he brought his quick instincts and team leadership skills off the field to launch his first registered company while still in high school.
After graduating from McGill with a Bachelor's Degree in Electrical Engineering, Hicham became a technology strategist at Deloitte. He later left his corporate life to co-found Frank & Oak, living by his father's mantra that "it's better to make a cent on your own than a dollar from a check." In just a short thirty months, he's successfully transformed the online brand and retailer into a menswear destination for the digital generation.
Read more at https://www.frankandoak.com