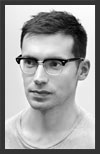 Erdem Moralioğlu
Established in London in 2005 by Erdem Moralioglu, the eponymous ready-to-wear brand, Erdem, has come to be synonymous with versatile yet powerful femininity. Known for his use of experimental textiles, vibrant prints, and detailed craftsmanship, Erdem creates timeless pieces to suit every woman.
Erdem trained at the prestigious Royal College of Art in London where he remained to launch the brand following his graduation. Drawing inspiration from art, theatre, movies, books and nature, Erdem has created a beautiful world of the delicate mixed with the bold.
Quickly attracting a strong list of brand ambassadors such as Michelle Williams, Keira Knightley, Sarah Jessica Parker, Anne Hathaway, Gwyneth Paltrow and Anna Wintour, Erdem has inspired through them the 'Erdem Girl' – a woman of independence and strength, yet with a symbiotic mixture of distinct sensuality and femininity.
Erdem has received numerous accolades over the years, including the 2008 British Fashion Council's Fashion Forward Award; the 2010 UK Elle magazine Designer of the Year Award; the 2010 inaugural Vogue / British Fashion Council Designer Fashion Fund Award, and the 2012 British Fashion Council's New Establishment Award. The brand continues to grow in both its following and its interpretation of the modern day woman.
Read more at www.erdem.com