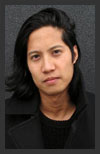 Davidson Manaloto, wings + horns
Born in Calgary, Alberta, Davidson Manaloto aspired be an architect. Completing a BSc in Mechanical Engineering in 2005, he worked in his field of study for two years before moving to Vancouver to pursue a career in fashion design. Upon graduation, he was awarded Designer of the Year at the Helen Lefaux School of Fashion Design.
Davidson believes both architecture and fashion design are about balancing aesthetics with functionality, and considers his experience methodically solving design problems essential to his creative process.
Founded in 2004, wings+horns combines Canadian elements with Japanese quality. In his third year as the brand's designer, Davidson continues to focus on harmonizing inspiration with consistency to produce contemporary menswear classics.
Read more at www.wingsandhorns.com