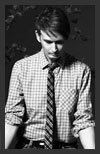 David Dixon
"Born, and Made in Canada…
"…I am constantly cultivating whom and what I am, as well as who I would like to be. It is an evolutionary process. I technically and artistically can design whatever crosses my mind. But is that what I want to be about…not at this moment. I am about challenging myself, showing a body of work that is consistent, yet intrigues at the same time…"
Founded in 1995, a year after graduating Ryerson University. David Dixon remained true to his vision and focused on what he felt was a gap in the Canadian Fashion Industry – Women's contemporary evening wear or event dressing. Interpreting the marriage between the classics and the modern, David Dixon's clothing combines luxury with the functional, and the aspiration with the sensible. All of Dixon's designs are manufactured in Canada, utilizing the best of imported fabrics sourced through out the globe with the overriding theme of luxury.
In 1995 Dixon was accepted into The Toronto Fashion Incubator Program as a resident in house designer. At the TFI, Dixon quickly found himself in a healthy competitive environment that motivated him to push further. However, Dixon also realized that there was strength in numbers or association. Being apart of a organization like The TFI, The New Labels Show, alongside with his point of view garnered him to be named as "One to Watch." In that same season, Dixon was also the recipient of "The Yorkdale New Designer of the Year Award." and eyes were on the Toronto based new designer. Upon his departure from the TFI program, Dixon was asked to remain affiliated with the Incubator, and became at that time, an advisor to the Board of Directors.
Dixon continued to produce consistent and evolving collections even to this day, he has become an anchor to Toronto Fashion Week, and ever present in the CanadianFashion Landscape. His dedication to the Canadian Fashion Scene is unparalleled to his contemporaries. For example in 2002, Dixon co sponsored The TFI's New Label Show, when they were displaced during and ever-changing Toronto Fashion Week calendar. This was one of the first of many examples of giving back to those who gave so much. From that collaboration, Dixon became a New Labels Judge for their juried applicants, and still today remains today in that role, along with being its current President of the Board of Directors. In that period the City of Toronto, awarded and named "New Designer of the Year" in 1997, and City of Toronto's "Designer of the Year," in 2001, recognizing Dixon's work.
In 2001, Dixon was also a key player in the support and development of what was then called, "The Designer Remission Order." The group of 8 designers were a template for lobbyists' for the Canadian Government with regards to removing duty on all imported fabrics. The group of 8, which included Dixon, championed for all Canadian Designers to remove duty on all imported fabrics to Canada which is still active today.
Early on in his career, Dixon also began instructing, mentoring and guest speaking about Design and Entrepreneurship at various Post Secondary institutions. Ryerson University, George Brown College, and Seneca College are examples of other creative outreaches for Dixon, whether it be instructing on Illustration, or Collection Development. In 2013, Dixon has agreed to become an advisor, and mentor to London Ontario's Fanshawe College to which he has been affiliated with for the past 4 years. These partnerships introduced Dixon to emerging talent and supporting the advocacy of hiring new graduates and inspiring new designers to develop small business in Canada.
Having these connections to graduates and interns, Dixon developed a keen eye for hiring new talent and nurturing them. Some of Dixon's past assistants were Rebecca Nixon of Girl Friday Boutiques, Wesley Badanjak of Lovas Design, and Arthur Mendonca to name a few. All of who are now working independently within the Industry.
David Dixon, the designer, and the person is a firm believer in relationships and collaborations to develop new and exciting opportunities here in Canada, and abroad. Dixon's commitment to the "Made in Canada" philosophy, and his consistency within the Canadian Fashion Industry, has given the David Dixon Brand a trustworthy and respected label. His dedication and perseverance, brought the eyes of National an International companies to want to partner with him. Town Shoes was Dixon's first licensee agreement, and the first for Town Shoes to collaborate with a Canadian Designer. Established in 2007, the "David Dixon for Town Shoes," has become one of its top selling brands across the country. In 2009, Mattel approached the designer to develop a collection of clothing for adult women under the label "Barbie by David Dixon," to celebrate her 50th Anniversary. Clearly, one of the most protected brands in the world, Barbie was going to be introduced for life-sized women, sold exclusively through The Hudson's Bay. This successful collaboration with The Hudson's Bay, lead to other opportunities within their assortment.
"Little Black Dress, by David Dixon" was created in 2011. All the while, Dixon's signature collection was being sold to department stores and speciality boutiques around the world. Of most recent, Kleinfeld's Canada/USA has been added to the mix. A bridal wear collection that captures the essence of Dixon's mantra, ASPIRATIONAL, APPROACHABLE, AND AUTHENTIC.
Other significant partnerships that Dixon ventured into was an area that he believed was needed, designer clothing at an approachable price point, that was made in Canada. His collections have been featured on The Shopping Channel since 2008, and in 2012 Sears Canada, in all of its retail locations. Proving that local factories that are monitored, safe, and quality driven can be done here in Canada at competitive prices.
Being a visible Canadian Designer does have its benefits on the international level. Dixon has been a representative of Canadian Design in many forms such as trademissions to China, Germany, and New Zealand, and shows in Copenhagen, New York, Dallas, and Milan. These initiatives that were cross-cultural exchanges have lead into long lasting relationships and new markets for the David Dixon Brand. It is with these collaborations and continuity of the Brand lead Dixon to being recognized by Ernst and Young, as a nominee for its 2013 "Entrepreneur of the Year Award."
The David Dixon Brand, is not simply just a designer dress collection, it is also a socially aware and dedicated label to assist in bringing awareness to community efforts and initiatives. Dixon has found that over many years of designing, fashion is a perfect conduit for collaborating with social causes and to bring awareness to charities, and programs that have a special connection to Dixon. Such charities include: Red Heart Truth, Sick Children's Hospital, ACT, ONE X ONE, Windfall, The Stephen Lewis Foundation, Children's Aid Society, The Textile Museum of Canada, The McMichael Gallery, Ballroom Blitz, Because I am a Girl, and Make a Wish Foundation to name a few.
David Dixon, the brand will be celebrating its 20th anniversary in 2015. The company and designer, values the family that has been there from the start, and cherishes the relationships it's made over this period, and is eager to expand the circle in the years to come. Dixon will continue to be an advocate for Canadian Design, and manufacturing. David Dixon will still remain a strong supporter of emerging talent, and dedicated to his craft, all the while supporting the charities and programs he feels passionate about. The future of David Dixon, is all about the evolution of an inspiration, a story to tell, and building a company that is well rooted, and understands that loyalty and perseverance builds a foundation that can give back so much, from an Industry that has been so kind and supportive to him.
Read more at www.daviddixon.ca/