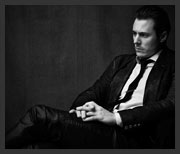 Christopher Bates
Trained in Milan at legendary Istituto Marangoni, Christopher Bates is an intrepid Canadian designer achieving a meteoric rise in the fashion industry. His eponymous menswear line is gaining traction with retailers, consumers, media, stylists, and celebrities. Since he launched his brand he has been selling to leading retailers including: Holt Renfrew (Canada's foremost luxury department store chain), Gotstyle Menswear (voted #1 Menswear Store in Canada, Sharp Magazine 2012) and online with Gilt. In 2009, Bates was featured as one of the top six leading menswear designers in Canada (Sharp Magazine, September 2009). In 2012, he was selected as the only menswear designer in the Mercedes-Benz StartUp Program and was awarded with a sponsored show at World MasterCard Fashion Week in Toronto. In 2014, he was included in Canada's Top 100 Most Influential People for his excellence and leadership of promoting Canadian heritage through Arts & Culture nationally and internationally and for his immense devotion to set the world stage for fashion industry (Alberta Youth Congress). Bates is nominated for the 2015 Canadian Menswear Designer of the Year Award (CAFA).
Bates has garnered significant local, national and international press including: Women's Wear Daily, Forbes, Monocle, Elle, Fashion, SCHÖN!, Hello!, Huffington Post, Flare, and Inside Fashion etc… Celebrities who have worn his line include: CBC's Ron MacLean, Howie-D of the Backstreet Boys, bands: Marianas Trench, Walk Off The Earth, and Eleven Past One, actors: Greg Bryk, Ramin Karimloo, Kristopher Higgins, John Boyega, Charlie Carrick, Jordan Weller, Tygh Runyan, Craig Olejnik, and Rainbow Sun Francks. Bates' unique style signature evolves from the following elements: contemporary classic tailoring, stylish fabrics and trims, clever details, quality construction, a tasteful colour palette with injections of boldness, and a unique blend of Italian and Scandinavian influences. He designs quality, lifestyle-oriented pieces with a distinctly European flair. Focusing on the smart-casual contemporary market, his dashing urban looks are perfectly suited for evening, weekend, and transition wear. His inspirations are diverse and include: living, studying and travelling in Europe, asymmetry, the 80's, architecture, Depeche Mode, and style icons, such as James Bond. Bates designs for dynamic, stylish individuals who possess a cultivated appreciation of designer fashion and a sense of adventure in their life and dress. The line is perfect for confident men in their prime who want to stand out from the crowd. Born and raised in Canada, trained in Milan and inspired by the jet-set lifestyle, Bates' approach to design is truly global and his line appeals to the growing numbers of fashion-conscious men in cosmopolitan cities around the world.
In November of 2014 Bates opened a design studio and showroom in Milan to expand the business in Europe and to work closely with leading Italian mills and manufacturers. His ultimate goal is to create a leading international designer fashion brand.
"We are excited to be launching the Christopher Bates Collection for Spring 2014. This young talented Canadian Designer has perfected his craft creating a unique, contemporary sportswear collection that showcases clever details and quality constructions with a modern yet sophisticated edge. We look forward to our new partnership with Christopher." Barbara Atkin, Vice President, Fashion Direction at Holt Renfrew "Your work is a breath of fresh air! Very tasteful, with thoughtful little design touches – a real modern take on classic menswear." Bernadette Morra, Editor-in-chief, FASHION Magazine Christopher Bates had an elegant men's wear line with a James Bond theme. "I have no doubt at all that that guy is going to make it." Jeanne Beker on myETVmedia.com.
Read more at http://www.christopherbates.com/