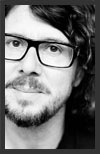 Chris Nicholls
Born in England and raised in Canada, Chris Nicholls lives and works from his home base in Toronto.
Chris' work focuses on fashion photography, for which he is well known. He has won countless international awards for his work including 14 National Magazine Awards (more than any other Canadian photographer), 4 of which he won in the last 3 years. The Proctor and Gamble Fashion and Beauty Awards has voted him "Photographer of the Year" three years in a row (2009, 2010, 2011).
His shoots have taken him around the world, but mostly triangulate between New York, LA and Toronto. He has photographed many of the world's top models as well as Miley Cyrus, Courtney Love, Clare Danes,Taylor Swift, Katy Perry, Michael Buble, Christina Ricci, Olivia Wilde, Kate Moss, Claudia Schiffer, Elisha Cuthbert and many others.
His work can be seen in many magazines around the world including Elle China, Elle Russia, Seventeen Magazine, Fashion Magazine,Rolling Stone, Glow and enRoute.
He lives with his wife and three children.
Read more at www.chrisnichollsphotography.com