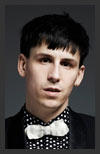 Jerome C. Rousseau
I launched my eponymous label with the Fall 2008 collection. Born in Quebec, my interest for design was shaped through art and music. I started drawing shoes as a teenager after watching a Deee-Lite videoclip. I was influenced by its unique styling, but it was the overstated retro footwear that first caught my attention. I built a strong technical knowledge in footwear design at London's Cordwainers College, and designed for various labels for ten years before starting my label in order to gather the knowledge and solid experience to venture on my own. In 2010 the label was awarded the prestigious "Who Is On Next" accessories prize by Vogue Italia.
I like a collection that has a strong theme, a strong point of view. My collections reflect my latest crushes in terms of artistic influences, but I like to keep an element of subtlety throughout the process. I think that really defines the DNA of my label.
It was an important decision to develop and manufacture my collections in Italy. Our two factories are based in the heart of Tuscany between Florence and Pisa. Both factories are family businesses that have been passed down generation to generation. The intimate size of the factories, allow for more exclusive production. I believe in a handmade process. The first step is to build the last, followed by the heels and the platforms. This dictates the fit of the entire construction. My shoes are intricate and require skilled artisans.
The unusual film collaborations I have worked on so far were not necessarily something I was seeking, they kind of happened. The first collaboration was a fantastic scene in Terry Gilliam's Imaginarium of Dr Parnassus, and this was followed by official collaborations for Tron, The Muppets, and Oz: The Great and powerful."
The original Tron film was always a big inspiration for me and I was incredibly excited to design the official shoe for the release of Tron Legacy. This style received great exposure and pushed my label in various publications around the globe.
Charlize Theron was first to wear the label on the red carpet. To have my shoes featured alongside established fashion houses put my label on a par with them and gave me incredible exposure, especially as I was launching.
Read more at http://jeromecrousseau.com