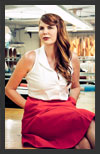 Treana Peake – Canadian Fashion Designer
CAFA sat down with Canadian Fashion designer Treana Peake as part of our designer profile series to learn more about her distinctive approach to fashion and what drives her as a socially conscious designer.
Treana Peake is a woman of many talents. In addition to spearheading luxury fashion brand Obakki -worn by the likes of Gwyneth Paltrow and Kate Hudson- Peake is an avid humanitarian and activist. Through her work with Obakki and its philanthropic counterpart The Obakki Foundation, the designer has united her creative talent and passion for social good to create an innovative fundraising model.
The model's success speaks for itself: Peake has positively impacted the lives of over 500,000 people by providing over 700 water wells and building 12 schools in South Sudan and Cameroon – support that can subsequently lead to self-sustainable growth in these communities.
To read more about Treana Peake, please visit http://obakki.com/about/bio.html
CAFA: What motivated you to begin a career in fashion design?
TP: I've always been a creative person and I always loved exploring different perspectives. I'm the kind of person that hates seeing something presented the same way over and over. Fashion for me was always evolving and had no rules, no limits, no ceiling as to where you could take your creativity.
CAFA: What inspired you to combine activism with fashion design?
TP: I have always been involved in philanthropy – since I was a young child. Many people think I was in fashion first and the foundation came after – but that is certainly not the case. As my fashion brand began to grow and as the name started to get some attention, I saw it as a great opportunity to use it to bring awareness to some of the world's issues.
CAFA: Does your creative process differ now that the Obakki fashion label incorporates philanthropic initiatives?
TP: I don't think my creative process has changed – I still design the same way, although the energy and the driving force behind it all has certainly picked up. For me, fashion has become a platform for change and when I am sitting in a village in the middle of South Sudan watching them drink clean water, I see it all come full circle and it fuels my passion even more.
CAFA: What is Obakki's fundraising model?
TP: Obakki as a brand is about making someone feel good – inside and out. Style wise I like to focus on those classic yet modern silhouettes that accentuate a woman's body. I want our customers' closets to be filled with beautiful, timeless staples they can wear year after year after year.
But behind Obakki is our philanthropic counterpart – the Obakki Foundation. The Obakki Foundation focuses on clean water and education initiatives around the world – currently in Africa. Obakki covers 100% of the administrative fees so that every penny of our donations can go exactly where they are needed. To date we have drilled over 700 water wells, built 12 schools and provided educational and nutritional support to hundreds of thousands of children in orphanages around the world.
When someone wears a piece of Obakki, first I want them to love it for what it is – for the brand, but I also want them to know behind that Obakki piece is many philanthropic layers and that they are part of a larger community of people who are doing good in the world.
By: Alexandra Serrano
aserrano@cafawards.ca