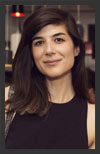 Tiyana Grulovic – Jury Member
Tiyana Grulovic's journalistic excellence has earned her national acclaim in the Canadian fashion community. Prior to her current role as Fashion Director at Flare, Tiyana sat at the creative helm of The Globe and Mail's fashion section from 2008 to 2013, where she shaped the aesthetic and tone of the fashion content into an ambitious paper-wide redesign, and won a National Magazine Award for her work on Globe Style Advisor.
As The Globe and Mail's Fashion Editor, Tiyana conceptualized and produced fashion and trend stories, styled editorials, worked with both established and up-and-coming photographers across Canada and in the U.S., and covered fashion week in New York. She has interviewed some of the fashion industry's most prominent personalities such as Victoria Beckham, Derek Lam, Margherita Missoni, and was the first journalist to speak to Reed Krakoff after he announced his departure from Coach.
CAFA: From your perspective, what has been the most prominent change you've observed in the evolution of fashion in Canada?
TG: There has been such a creative rush from Canadian talent – be they photographers, designers, stylists or image makers – both here and abroad. I attribute that to a national work ethic and business savvy that is paying off. We're a creative bunch but we're also pragmatic, hard working, and best of all, kind.
CAFA: What do you predict for the future of Canada as a global contender in the international fashion scene?
TG: We still have a long way to go to become contenders on the international scene, largely because of funding and recognition issues, but CAFA is a move forward in gaining that recognition.
CAFA: The Canadian Arts & Fashion Awards were named to highlight the artful nature of fashion as a craft. What does the concept of "fashion as art" mean to you?
TG: Fashion is commercial art! It's an art form to make things that people love enough to buy, again and again. And it's an art form to make such a strong image be associated with a specific name and label.
CAFA: What are some of the challenges (if any) that you've faced as a Canadian in the fashion industry and what advice would you give to aspiring young fashion professionals?
TG: Absorb everything you can from the people you work with or for.
CAFA: What excites you most about CAFA as a national initiative?
TG: That it serves to highlight the talent in this country and unite the fashion community across Canada.
By: Alexandra Thais Serrano
aserrano@cafawards.ca