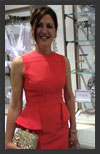 Rita Tesolin – Canadian Jewellery Designer
CAFA sat down with Canadian jewellery designer Rita Tesolin as part of our designer profile series. During the interview Rita shared her earliest inspirations, thoughts on her dramatic career change, and her favourite elements of Canada's fashion industry.
To read more about Rita Tesolin, please visit http://www.ritatesolin.com
CAFA: You made a major career switch, from lawyer to jewellery designer. At what point did you realize that you wanted to be in fashion?
RT: I had made jewellery out of leather scraps since I was young. I eventually tried selling my work on consignment, and by the time I was seventeen, my designs were in twenty-two stores across Canada. I had also always wanted to become a lawyer so that I could help people. But being a lawyer wasn't exactly what I thought it would be, so I started painting and making jewellery again to balance my life. I had an old Le Chateau belt, and I love stones, so I decorated the belt buckle with them. Soon, people started commenting on my pieces and ordering right off my waist! I was hesitant at first when asked to attend a design fair in Montreal but I went, and I sold out. That was when I realized I could establish a viable business. It was that weekend that I changed my career path.
CAFA: Who or what were some of your earliest design inspirations?
RT: I love Roberto Cavalli. When I started, he was making huge bibs with coral, turquoise…all different types of pieces. He isn't afraid to make a statement. Not everybody can wear his designs, but his work had a huge effect on me. There were no limits or boundaries, it was pure soul. That was inspiring to me, and that's when I started designing my statement pieces and allowing my creativity to fully flow.
CAFA: How do you go about designing a collection each season? What is your creative process like?
RT: I don't know if I have a creative process that you can pinpoint. For me, it's the stones – I don't choose them, they choose me. Oftentimes, when I'm touching them, different designs will come to me right away. Other times they don't, but I still just know that I have to have them because I think they're so spectacular. I keep a pad of paper in my bedroom, because designs will often come to me at night.
CAFA: Who would you list as your top three Canadian designers?
RT: David Dixon for sure. I've collaborated with David for seven years now. I love his clothes and wear them all the time because they make me feel like a lady – very elegant, sophisticated, and pretty. My second choice would be Lucian Matis. To me, he's very couture. The detail in his work is spectacular – it's like wearing an art piece. Some of his designs are beyond words. My third choice would be Mikhael Kale. His detail work is great. It's got this edge to it, but it's very sophisticated at the same time. The great thing about these men is that you can see that they are truly gifted artists who design from their soul.
CAFA: How has Canadian culture influenced your designs?
RT: I have always felt that Canada is a mosaic. Differences are respected, protected and accepted. The same holds true of Canadian designers. I believe our cultures influence our designs and that is a basic premise that keeps our "Canadian" products distinctive. In the US, when a new designer appears, oftentimes it's very obvious that they're heavily financed and have huge representation. Most Canadian designers start small, in the basement and grow slowly. It seems like the US designer is coming at it from more of a business background whereas we have more of a creative background. We create from our souls, and the business end comes later. We start off doing something that we love to do, and go from there.
CAFA: You've collaborated with prominent Canadian designers such as David Dixon. What's your favourite aspect of collaborative work?
RT: My favourite aspect of collaborative work is establishing the" theme" of the collection. With David, before his Spring 2013 collection, he decided the theme was "women breaking through the glass ceiling." I thought, "What better for that theme than shattered glass?" Within an hour, I had sent him a sample of what I liked, and he told me to run with it. It is amazing when your collaborator tells you "to run with it", because they're allowing you to be creative. There's a huge amount of trust.
CAFA: Do you have any plans for future collaborations?
RT: I'm working on some now, but I don't talk about things until they happen. That's just how I am. So many things can change, and I don't like advertising too soon.
CAFA: You've been described as "The Stone Angel". What are some of your favourite materials for use in your designs?
RT: My favourite material to work with is turquoise. According to native culture, which I've always been inspired by, turquoise is a warrior's stone – a stone that gives you strength. We're attracted to the stones that we think we need, or that we actually do need at the time. That's why I'm the Stone Angel – everything that I started working with was a semi-precious stone. I got into a little more of the glam stuff later on.
CAFA: What has been the most definitive moment of your career?
RT: I met one of the editors of W Magazine in Montreal at a design show, and she told me that she loved my jewellery. I ended up designing jewellery for three outfits she was wearing to P. Diddy's Grammy Awards parties. At the time, I really connected with Sheryl Crow and her music – her words really resonated with me. The day after the Grammy Awards, the writer from W called me and said that Sheryl Crow was at one of the parties, loved my jewellery, and had asked for my number. I ended up designing a belt buckle and lariat for Sheryl to wear while previewing a duet with Keith Urban during the Billboard Music Awards. At the end of the performance, she removed her guitar and bowed, and everyone watching saw the buckle. Honestly, I started crying, and it was then that I knew that this is what I had to be doing.
CAFA: What does the concept of fashion as art mean to you?
RT: Designers are just like painters, only we use a different medium. I'll use stones and metal, and a clothing designer will use fabric, but what we are creating is art – because it's real, it's authentic, and it's different. The problem is how art is often defined by the public. Unfortunately the fashion industry is often viewed as an industry that needs to be funded, not an artistic community that needs to be supported.
CAFA: Is there anything else you would like to share with us?
RT: Never give up on yourself. You learn patience in this business, and you get frustrated a lot. Sometimes, I've wanted to quit. The easy way out [during those times] would be to go back to my old profession, and it's a financially viable one, but that doesn't always satisfy the soul.
By: Julia Martineau
jmartineau@cafawards.ca