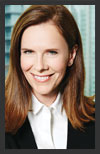 Noreen Flanagan – Jury Member
Noreen Flanagan has been with ELLE Canada since its second issue back in 2001 and has been Editor-in-Chief since April 2010. Prior to that, Noreen worked at Flare magazine as a senior editor. She possesses a creative vision characterized by its refreshing approachability, sharp intellectualism, and an innovative aesthetic which has earned her widespread recognition as one of the Canadian fashion world's most respected individuals.
CAFA: From your perspective, what has been the most prominent change you've observed in the evolution of fashion in Canada?
NF: There is a growing sense of confidence amongst the designers as well as a heightened desire from consumers and retailers to support Canadian talent.
CAFA: What do you think sets Canadian fashion designers apart on a global scale?
NF: We live in such connected times that it's difficult to cultivate distinctive influences and identities. Any designer, regardless of where he or she lives, has to have the talent, courage, and financial backing to make it in this industry. A dose of good fortune also helps. That said, I do believe that our culture and climate does influence our aesthetic leanings. We're not as moody, intellectual or angst-ridden as the Belgians, but there is an introspective, quietly confident sensibility that reflects our national character.
CAFA: What do you predict for the future of Canada as a global contender in the international fashion scene?
NF: I don't imagine the Canadian fashion industry will ever be a significant global contender because our market is simply too small. I don't even think we should set that as a realistic goal. I do, however, see the potential for more of our designers to establish international reputations and followings because of their talent, the quality of their work and their personalities.
CAFA: The Canadian Arts & Fashion Awards were named to highlight the artful nature of fashion as a craft. What does the concept of "fashion as art" mean to you?
NF: I'll defer to Miuccia Prada here: In the Met exhibition "Schiaparelli & Prada: Impossible Conversations," the two noted designers were debating this exact point. Schiaparelli tells Miuccia that, after chatting with her, she now believes fashion is art even though Miuccia begs to differ. "I always said, for me, fashion is not art," she said, later adding: "Fashion is art, fashion is not art. But at the end, who cares?" I feel the same way. Branding it as an art form doesn't lend it an added gravitas. For me, fashion can be inspired, evocative, transgressive and artful; in other words, immensely meaningful and influential on its own.
CAFA: What advice would you give to aspiring young fashion professionals?
NF: Drive, curiosity, authenticity and humility. If you have those attributes, you'll be in good stead.
CAFA: What excites you most about CAFA as a national initiative?
NF: I think it's a powerful platform to raise awareness and generate genuine interest and support for Canadian designers. In other countries, such as Britain and the US, these national awards have become respected arbiters of top designer talent, as well as astute forecasters for the ones to watch.
By: Alexandra Thais Serrano
aserrano@cafawards.ca