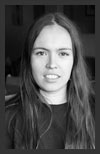 Alexandra Suhner Isenberg – Nominating Committee
Alexandra Suhner Isenberg is well known for her work in the fashion industry both within Canada and abroad. Born and raised in Vancouver, Alexandra moved to Paris at the age of nineteen to study fashion at l'Ecole de la Chambre Syndicale de la Couture Parisienne – the alma mater of YSL and Lagerfeld. During her tenure in Europe, Alexandra worked as Assistant Designer at Sonia Rykiel, completed a MA in fashion at Central Saint Martins in London, worked for Burberry, and founded her own lingerie company. Alexandra also excelled as a trend forecaster and a lecturer at both Central Saint Martins and London College of Fashion.
In 2009 Alexandra returned to Canada and founded her eclectic blog Searching for Style and began lecturing at the Visual College of Art and Design. Alexandra also serves as Fashion Editor at Vitamin Daily, runs her own nightwear business (www.thesleepshirt.com) and is a consultant for the Fur Council of Canada.
CAFA: In your opinion, what sets Canadian fashion and talent apart on a global scale?
ASI: Canadian fashion has a few distinctive qualities that set it apart from the rest of the world. I'd say our fur industry is very important, we produce some of the best pelts in the world and it is a raw material that is local and eco-friendly – as well as being part of our heritage. I also think we have to give some credit to the great active and performance wear companies, most notably within BC. Aside from those two things, I wouldn't say our talent is hugely distinctive from the rest of the world: we have great designers and a savvy fashion consumer like many other countries do. These days, the fashion industry is so global, you can be a great designer from anywhere, working from anywhere, and still do well.
CAFA: What has been the most prominent change you have observed in the evolution of fashion within Canada?
ASI: Two things. Firstly, there are so many more international brands and fashion forward products available in the Canadian market, which is so exciting. Secondly, the consumer is much more style savvy – with access to online media you no longer need to be in a fashion capital to know what is cool. Canadians are better dressed today than they have ever been, and they have greater access to great local and international clothing than they've ever had before.
CAFA: The Canadian Arts & Fashion Awards were named to highlight the artistic nature of fashion. What does the concept of "fashion as art" mean to you?
ASI: I do believe there is an element of art in fashion, but fashion is also a business and is about design that needs to be functional. I think the art element can play a role when we look at the research and development process of designers, what inspires them, how they produce their work, and how they present their collections. On the other hand, it isn't pure art because people need to be able to wear the clothes, and most of us want something that is very functional as well as beautiful. So really, the "art" here is to merge art, design, and functionality. The ability to do that well can certainly be considered an art.
CAFA: What excites you most about CAFA as a national initiative?
ASI: Canada has no national body governing, regulating, or even simply uniting the fashion industry and we desperately need that. I am hoping that CAFA will be the start of something great for the industry as a whole, and will unite the industry so we can support each other properly and help the fashion industry in Canada to thrive.
By: Alexandra Thais Serrano
aserrano@cafawards.ca