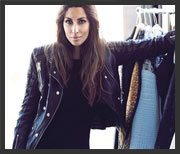 Zeina Esmail
Upon completing her Fashion Communication degree at Ryerson University, Zeina Esmail was quickly given the opportunity to work in the field of Fashion styling – her talent at which became apparent very quickly.
Since beginning her career in 2002, Esmail has established an impressive roster of both womenswear and menswear clients. She has worked across photography, film and runway for Mexx, NAFA, The Bay, Marlowe, Bell, and Coca Cola, and is a consultant for various designers and brands including MAC Cosmetics and designer Lucian Matis. Esmail approaches each shoot with a rare and unparalleled creativity, and has developed a strong aesthetic that is concept-driven, precise and intuitive, all of which is evident in her editorial work. The concepts seen in these bodies of work have been used as the catalyst for many major advertising campaigns across the country. In addition to her ongoing contributions to Flare Magazine, Zeina also regularly collaborates internationally with Swedish magazine Plaza, and most recently with Parisien magazine French.
Her talent with large scale projects, as well her impeccable taste have made her one of the most sought-after artists in the Canadian market, and have secured her an extremely loyal clientele.
Esmail is based in Toronto and continues to shoot internationally for her advertising and editorial clients.